I was visiting my aunt and uncle in Seattle, and they have a drugstore there called Bartell's. We went to visit it, and they had a really exciting clearance section. I picked up the OPI dupe of Chanel Peridot (called Just Spotted The Lizard) as well. I used it and forgot to photograph it, so it chipped before I got to take any pictures. but I'll try to have a post on that up eventually. Anyway, I got this set for $3.50! Not bad for a blush, eyeshadow, and lip gloss! I'll review the products one by one.
First, the lip gloss: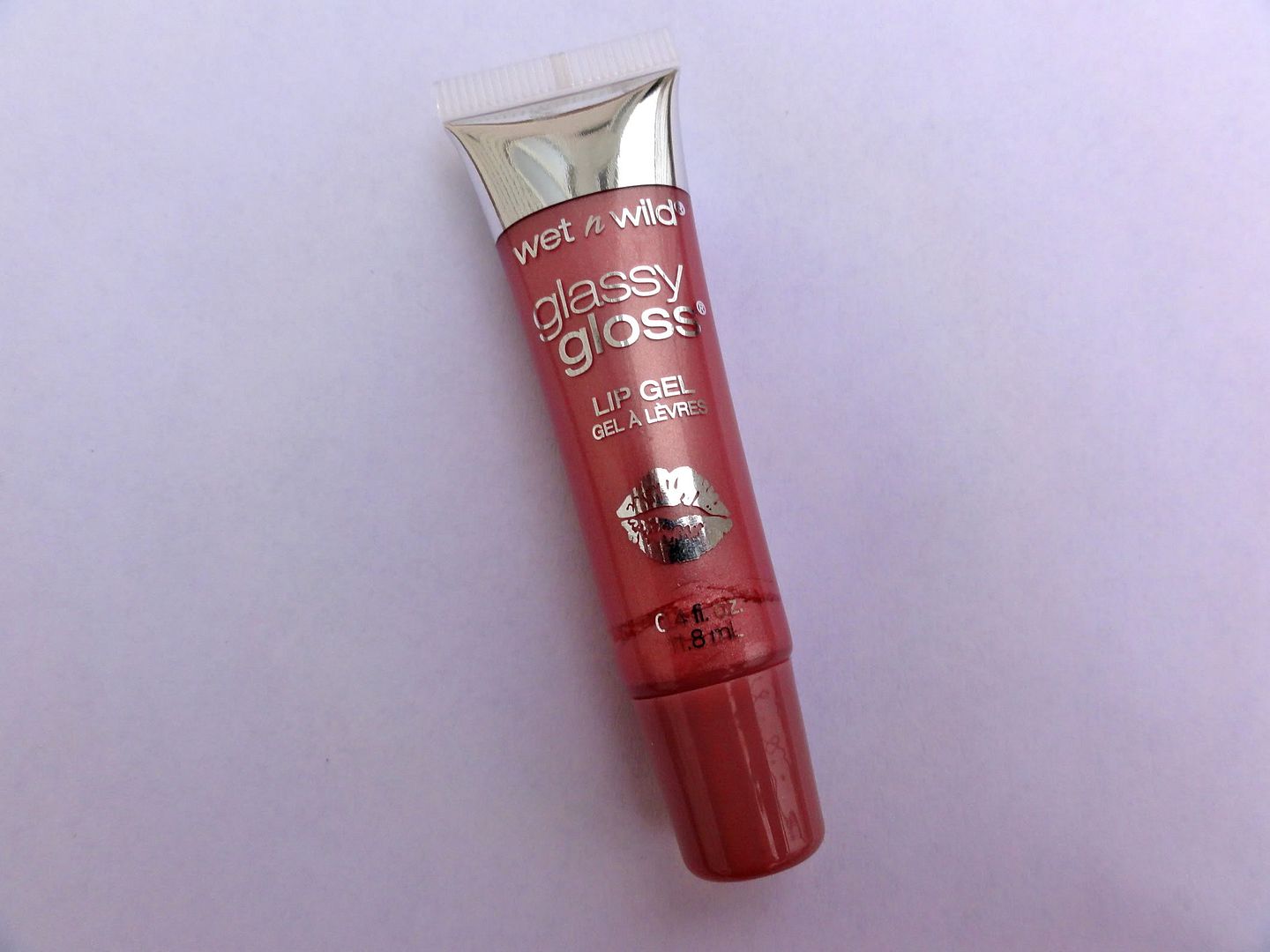 When I first tried to use some, it came out all gross, where the pigment and the gloss were separated somehow.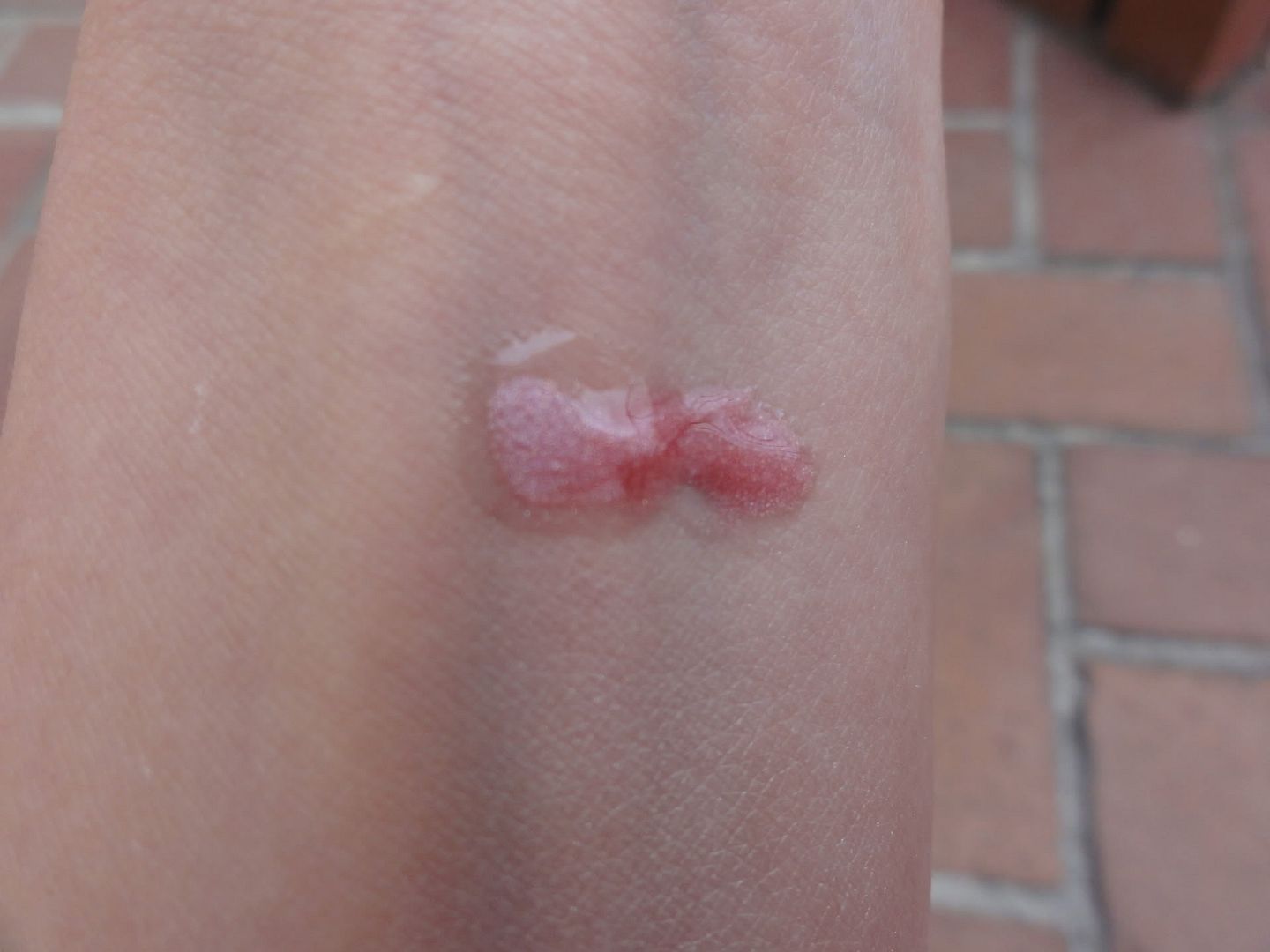 So I went and shook it, and then it was pretty much fine after. Still, it gives me the impression that the set was kind of old. Here's a real swatch:
It's a really pretty mauve-rose color! However, it has really subtle silver shimmer in it somehow, and it causes me to look washed out when I wear it. It stays for about 2 hours, but it's super super super sticky. I honestly can't put up with sticky lip gloss, since my hair gets stuck on it. I'm going to give this to my sister or someone who might get more use out of it.
Then there's the blush.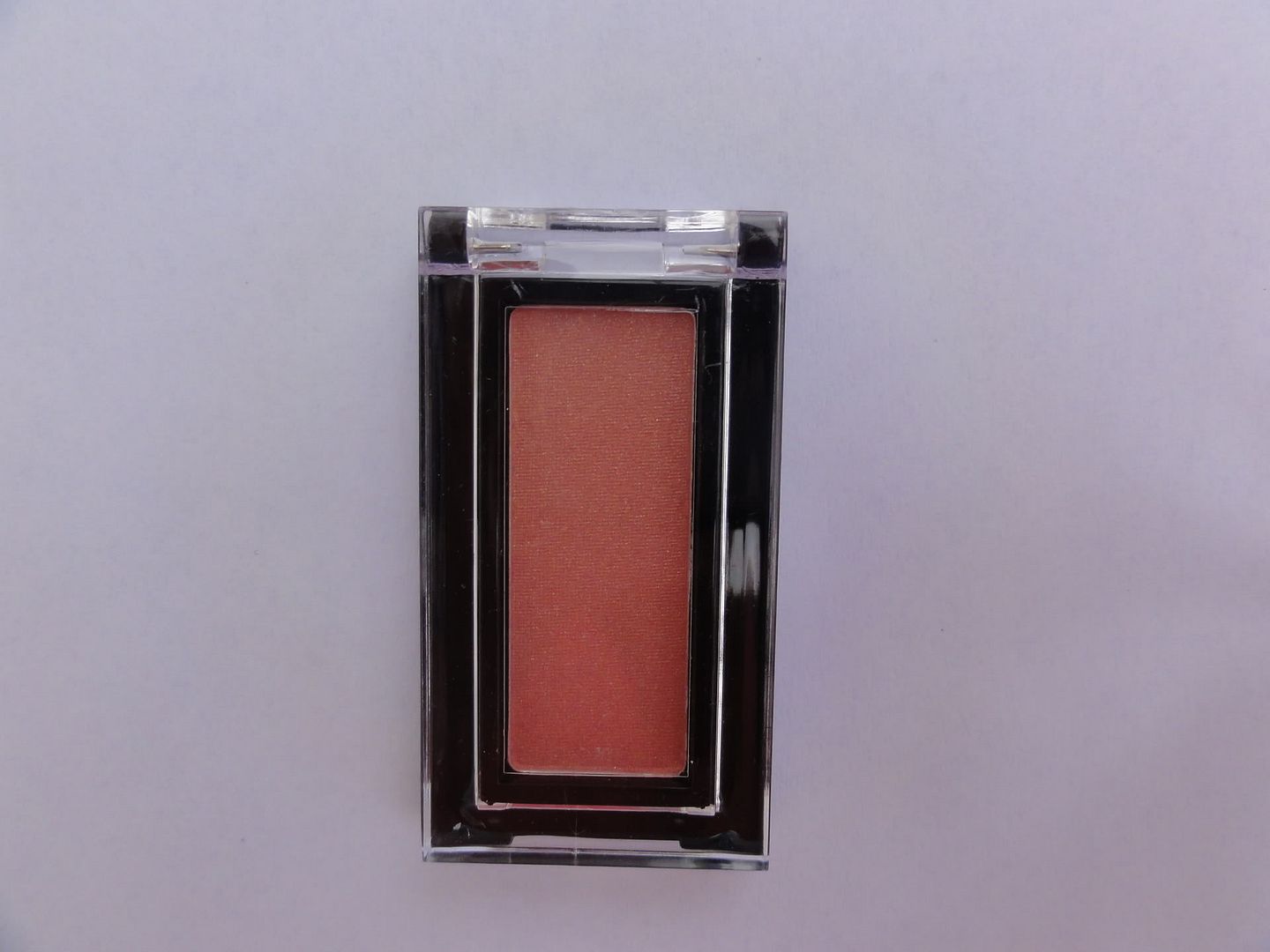 I actually have a Wet N Wild blush by the name of Pearlescent Pink. However, the colors seem to be completely different. I'll do a swatch comparison for you guys sometime. Anyway, this is a pink with a tiny hint of peach and gold glitter that's not extremely chunky but isn't super subtle either. It's well pigmented, and very buildable for either a dramatic or natural flush. The narrow strip packaging is kind of annoying to fit a brush into, as you have to go sideways, and it opens vertically. It's fairly easy to pick up color, and it applies smoothly to the cheeks. It lasts about 4-5 hours on me. Not stellar, but not abysmal either. The blush is a solid item in this collection.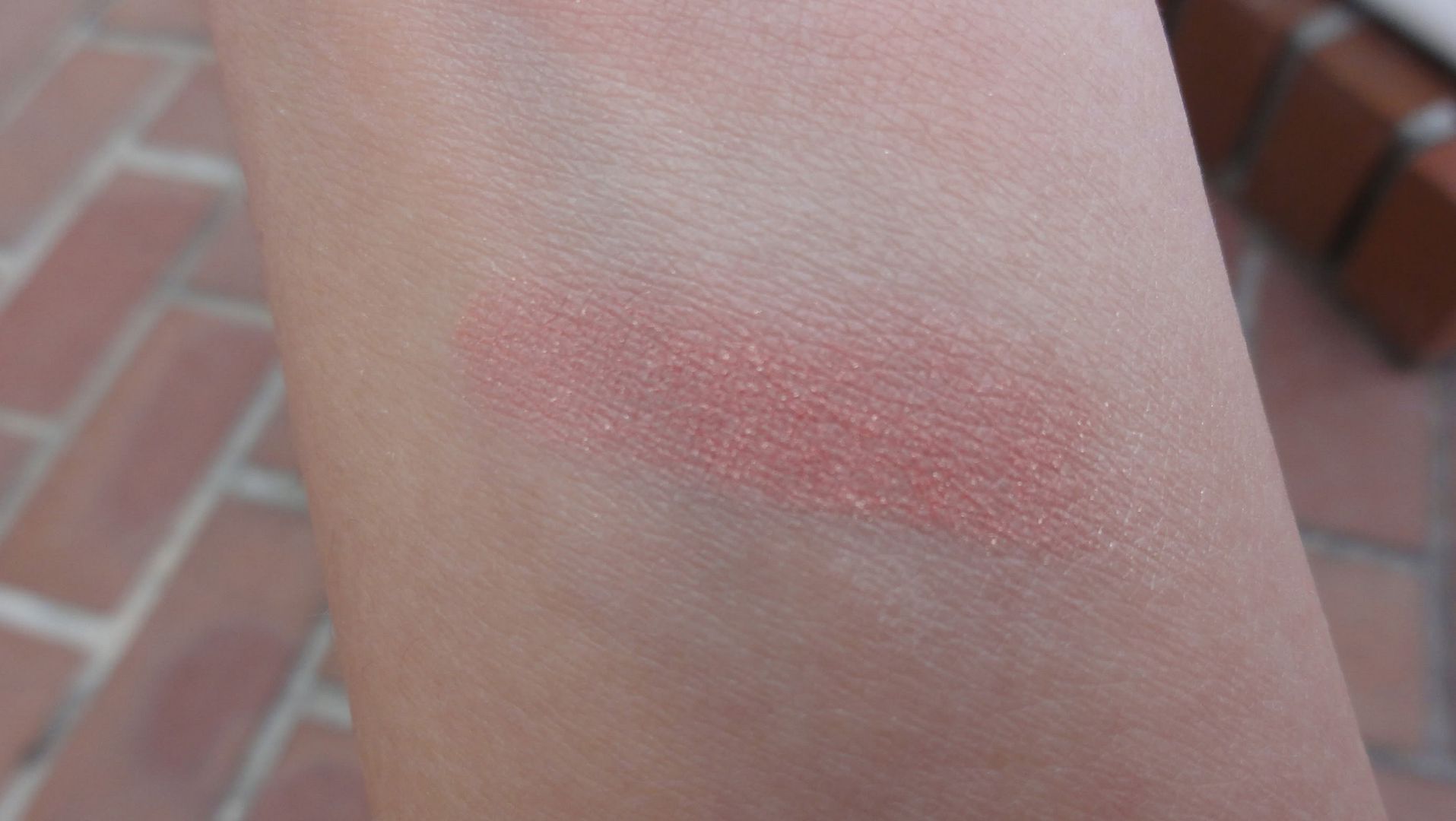 Lastly, my favorite item, the eyeshadow palette!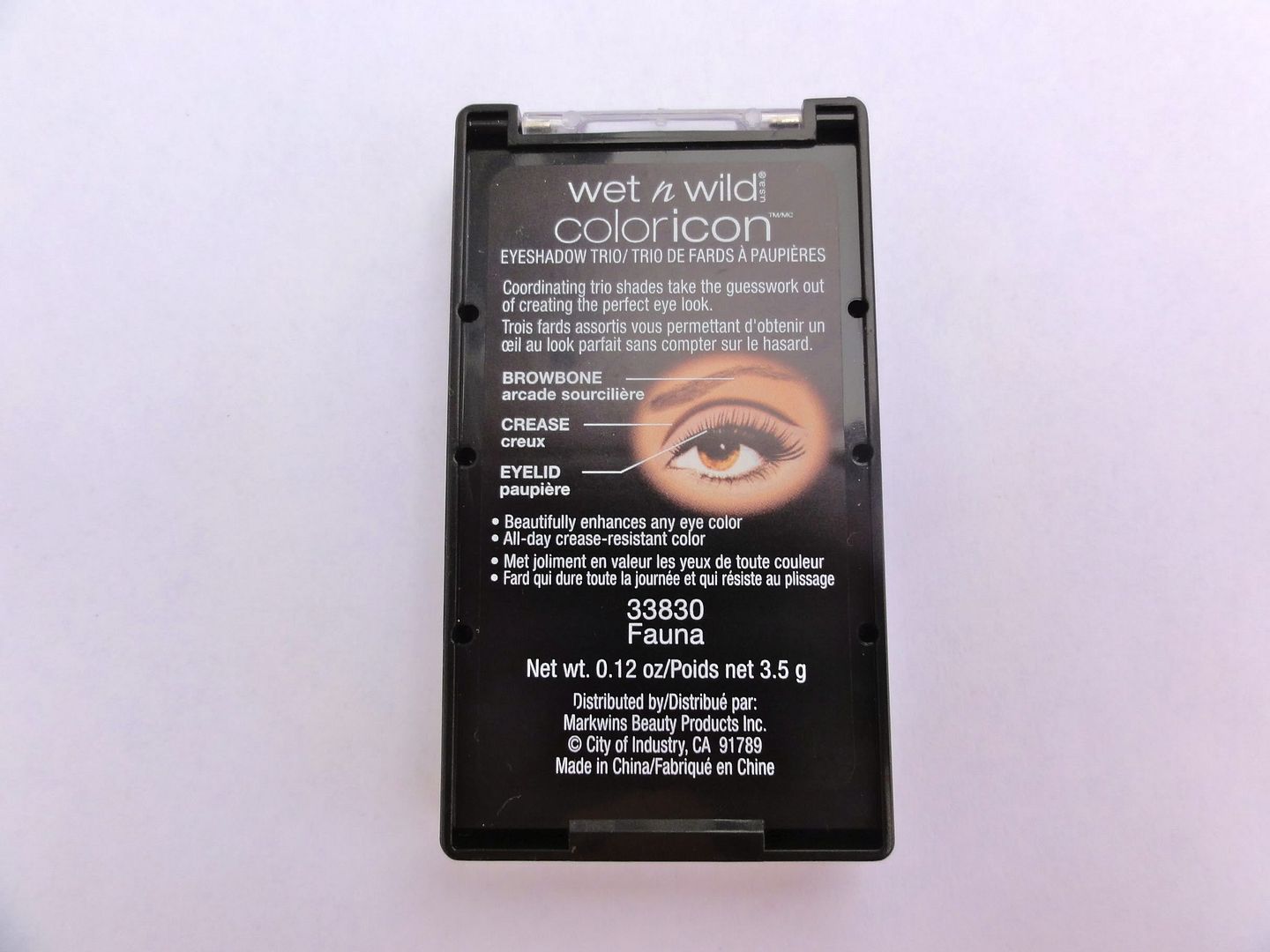 The palette has the typical Wet N Wild 3 pan packaging. Plastic and not particularly interesting or easy on the eyes. They also included the two useless brushes they usually do, both of which are going in the trash. However, the eyeshadows are a different matter. The top two shades, the white champagne color and the blueish teal (both shimmery), are perfect. They are both fairly soft but super, super pigmented. They apply beautifully. Unfortunately, the color I was most looking forward to, the purple with silver glitter, is just not pigmented.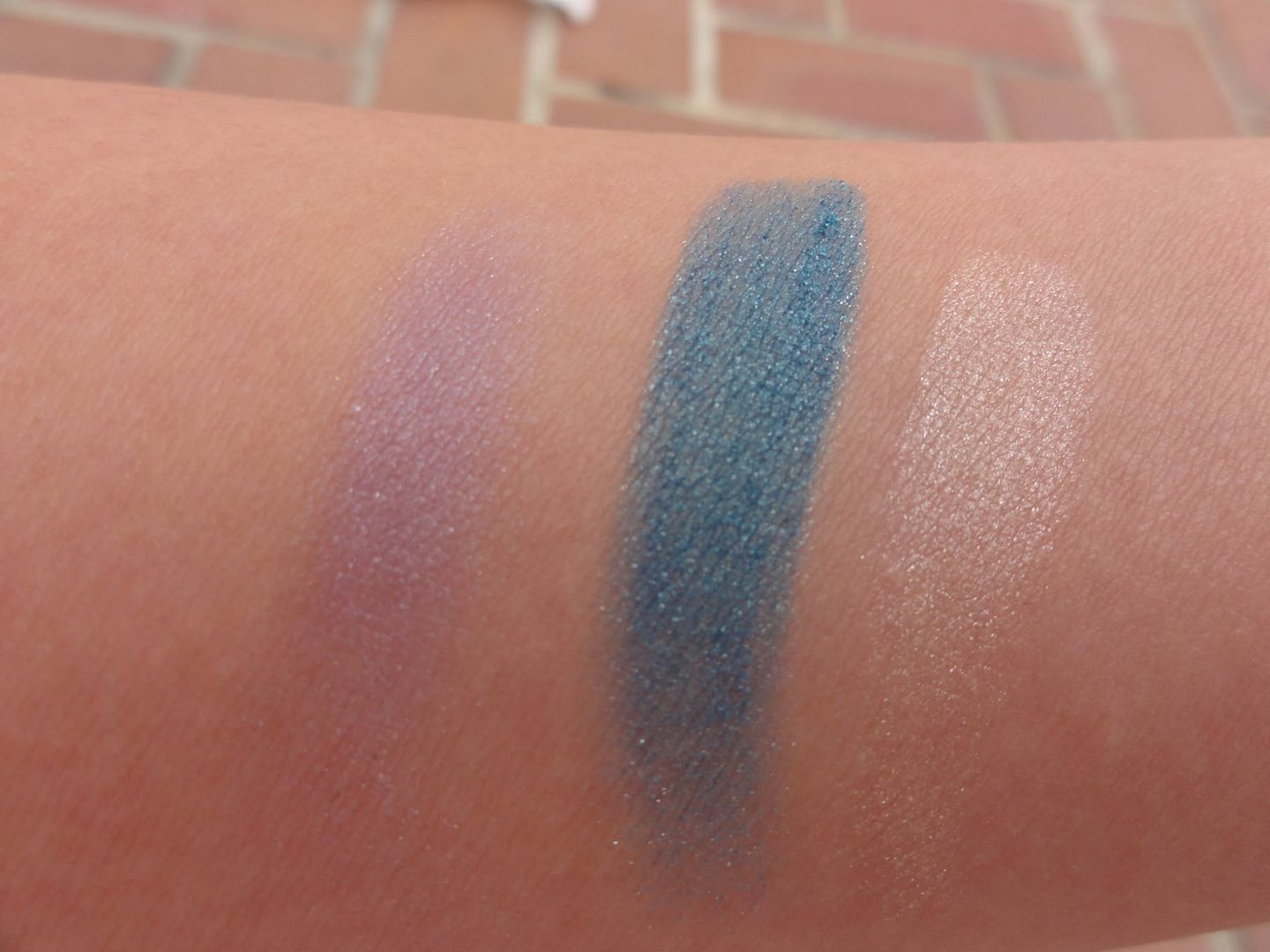 Swatched without primer
As you can see, the purple's pigmentation is totally subpar compared to the other two colors. This was such a letdown for me, since I'm constantly on the hunt for a good purple that's not red based (red based purples make me look tired). I hoped I had finally found it in the Wet N Wild Fauna set, but I was wrong. It would be perfect, if only the pigmentation was better. This is how it looks when there's 4 layers:
Swatched without primer
They last all day without creasing over primer (I use UDPP).
Overall, this is a solid makeup set, especially for the amazing price. My only lament is the lack of pigmentation is the purple. I love the blush, and the teal and white champagne eyeshadows are gorgeous. The lip gloss is sticky and meh on my skintone, but someone who likes sticky lipglosses might enjoy it. I definitely don't regret purchasing this set, and I'd recommend it to anyone considering purchasing it; it's won't make much of a dent in your wallet, and you get good value for your money.